About
Flying Window Tinting
Flying Window Tinting is the best place in Orlando for advanced window tinting services. We are a family business run by Steven and Sean, a father-son team, and we've been operating from the same location for 24 years and counting. With over 40 years of combined experience, we are proud to be the top provider of window tinting in the area.
While many of our competitors are starting to buy their window film from suppliers in China and India to save money, we continue to use Llumar window tint, which is better in quality and made in the USA.
We believe that your vehicle or property deserves the highest level of care, and that's why we only use the best materials. Come and experience the difference at Flying Window Tinting!
Make an Informed Decision
with
the Experts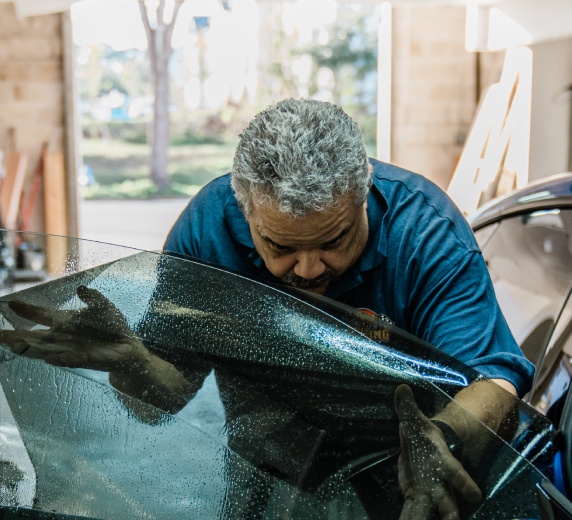 Flying Window Tinting has been open since 1985. Steven Hopkinson bought it in 1998. Steven has been window tinting since 1994, 24 years. We have used LLumar film since then. He is the owner-operator inspecting each car that leaves the shop, ensuring it is up to his quality.
The new hype is new owners taking a 1-week course in tinting, making a fancy website with tons of reviews and hiring inexperienced teenagers without experience. At Flying Window tinting, you are guaranteed 100% satisfaction. 
We have been through 2 recessions while nearly 10 -15 shops have closed in the area over the past 20 years. When we say lifetime warranty, we will be around to honour it. We specialize in auto tint, and with the computer cut system, you get a great window tint on your car.
Sean is awesome come here all the time once I get a new car and recommend all my family and friends. Great services always!
On time and on budget of standing experience
Eddie Montañez
2023-05-31
Flying Window Tinting have done 6 vehicles for me over the last 10 year. Always professional and the best tint job in town probably the state. Computer cut Llumar film, a variety of Llumar film to choose from, top notch installation. I got the ceramic film for my last two vehicles.
This is the 10th vehicle that Flying Window Tinting has done for me. They are the best! That's why I always return to them for my business.
Eric Colacioppo
2023-05-24
The staff was quick and friendly. Extremely helpful and affordable.
They did a very GREAT job on my car, It's totally like what I'm expecting, Now i don't have to worries anyone will stalking me:)))
Steven was able to help me out and get me in same day while completing front, sides and rear windows all in less time than initially quoted. I called so many local shops and their pricing was by far the best plus everything came out looking perfect. Steven explained the different tints really well and I would highly recommend Flying Window Tinting to anyone looking to improve their driving experience. I could immediately tell the difference in temperature after having my car worked on.
Yulia & Matthew De Bari
2023-05-06
Great experience. I made an appointment for the next day, and they finished my window tinting very quickly. Service was great, and staff was helpful.
Paul Maldonado
2023-05-06
The car looks great. Excellent workmanship.
Warranty of Your Window Tinting
At Flying Window Tinting, we understand that accidents happen and unforeseen damages can occur to your car window tint. That's why we offer an additional warranty that covers everything the manufacturer's warranty does not.
Whether you accidentally scratch, rip, tear, or experience vandalism or a break-in, our team will replace your damaged tint under this warranty. This additional warranty is available for as long as you own the vehicle, giving you peace of mind and protection for the lifetime of your ownership. Contact us to know more details!
We take pride in using high-quality window tinting products that are backed by manufacturer warranties, covering potential issues, such as cracking, bubbling, peeling, unusual change of color, etc. 
It's important to note that the tinting product must be used in compliance with all applicable laws. If the product is used in violation of any applicable law, the warranty through the manufacturer may be voided.
We Stand Behind Our Products
With our high-performance films at Flying Window Tinting, not only do you receive top-notch quality, but you also benefit from a high-performance warranty. We are committed to providing you with the best possible service and support throughout your tinting journey.
Our team of installers is factory-trained, ensuring that your window tint is applied with precision and expertise. We are here to address any questions, concerns, or issues that may arise with your tinting. Our goal is to ensure your complete satisfaction and make your experience with us a positive one!
ARE YOU READY TO GET YOUR WINDOWS TINTED?