Get Your Tesla Window Tinting Done Today!
Affordable and Customized Tinting for the Modern Tesla Drivers in Orlando
For over 23 years, Flying Window Tinting has been the hallmark of precision window tinting expertise in Orlando, Florida, especially for Tesla and other electric vehicles. Our longevity in the industry is a testament to our unwavering commitment to delivering top-notch services.
Our seasoned team, trained to perfection, understands the unique nuances of tinting electric vehicles, ensuring an impeccable finish every time. At Flying Window Tinting, every car is treated with precision and care, mirroring our reputation as Orlando's best.
Choose us for unparalleled quality, delivered by experienced staff passionate about offering the finest work in the field.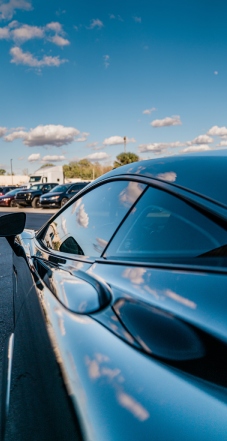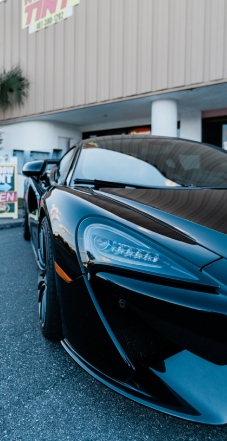 Premier
Tesla

Window Tinting Near You in Orlando
At Flying Window Tinting, we give Orlando drivers top-notch window shades. We do all types, from ceramic to carbon tints. Local Tesla owners come to us because we cut tints with computers, making sure they fit just right. With a dedication to quality and precision, we've become the go-to destination for discerning drivers seeking only the best for their cars. Tesla owners trust us to make their cars look and feel cooler. We're here to give you the best for your car. Try us and see!
How to Get Your Tesla Car Windows Done in 3 Easy Steps
Drive In or Book an Appointment
Simply bring your Tesla to us or schedule a time that suits you.
Select from our wide variety of top-quality tint shades and types.
While our experts precisely apply the chosen tint, ensuring a flawless finish.
Get Your Free Quote Today!
Why Do You Need Window Tinting for Your Tesla?
Benefits of Tinting Your Windows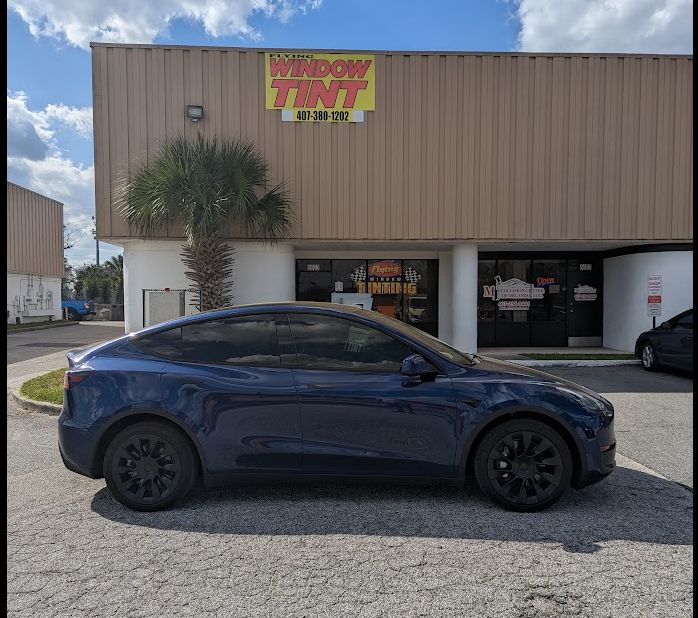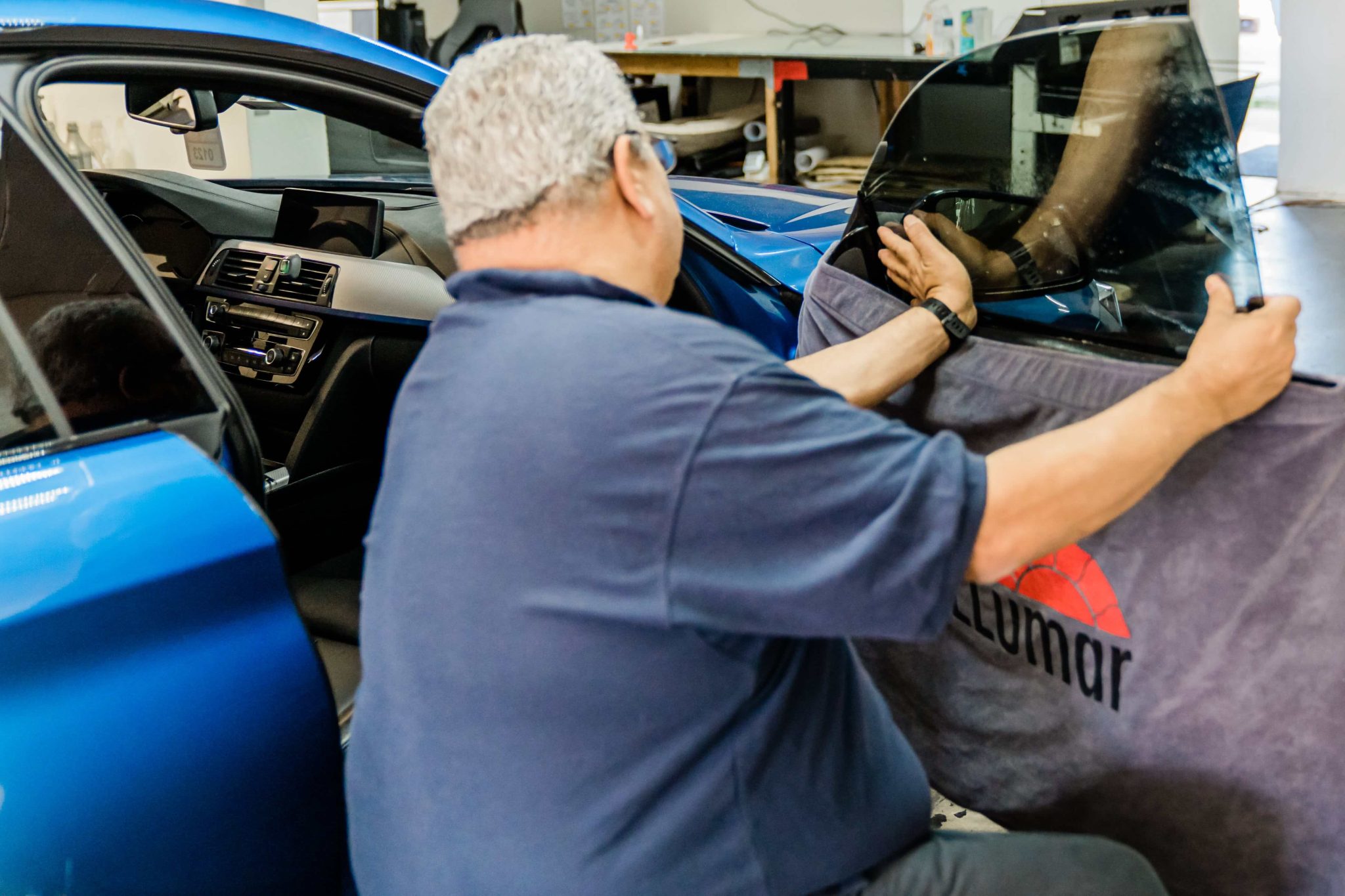 At Flying Window Tinting, our approach to servicing Tesla vehicles is meticulous and refined. We begin by consulting with you to understand your specific tinting desires.
Using advanced computer-aided technology, we cut tints precisely to ensure a snug fit. Our experienced technicians, trained specifically in handling Teslas and other electric vehicles, then apply the chosen tint with utmost precision.
We prioritize cleanliness, so each vehicle's interior remains immaculate. Throughout the process, we uphold Tesla's sophisticated aesthetic, ensuring your car not only gets top-notch protection but also retains its luxurious appeal. Choose us to witness craftsmanship at its best.
Premium Window Tint Installation for Orlando
Teslas & Electric Vehicles
Driving a Tesla or another electric vehicle in Orlando? Upgrade with our premium window tint installation. Not only does it enhance aesthetics, but it also offers UV protection, conserves battery life by regulating temperature, and ensures privacy. At Flying Window Tinting, we specialize in tailoring the perfect tint to elevate the elegance and efficiency of your EV. Experience the best with us.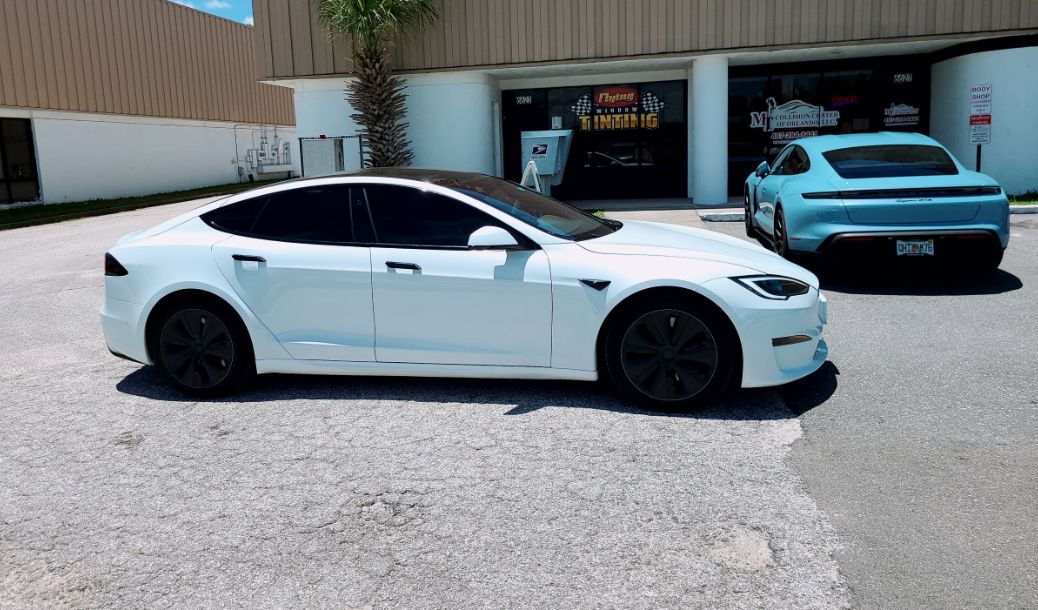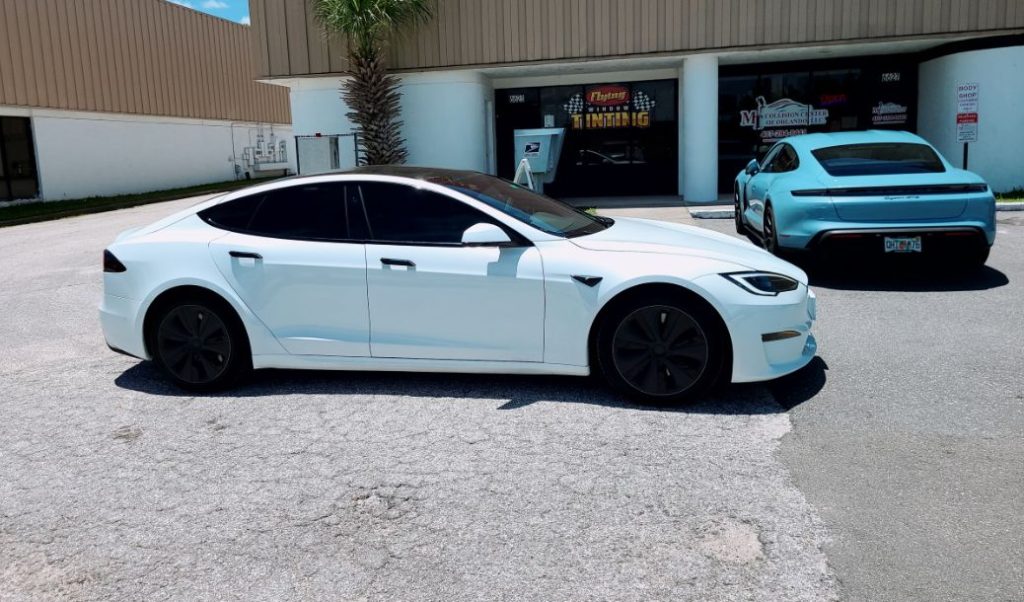 Flying Window Tinting in Orlando offers top-notch window tinting services with a 100% satisfaction guarantee. Here are some things that make us stand out from the competitors.
As the oldest tint shop in Orlando, our legacy speaks for itself. Decades of service have cemented our reputation as industry leaders.
02.

Precision with Computer-Cut Tints
Embracing advanced technology, we use computer-aided cutting to ensure each tint is cut to precision, guaranteeing a flawless fit for your vehicle.
03.

Tailored Solutions for Teslas
We understand Tesla and electric vehicles, offering tinting solutions that beautifully enhance their distinctive design.
Commitment to quality drives us to use only the finest tints, ensuring durability, beauty, and maximum UV protection.
05.

Commitment to Customer Satisfaction
Our team's dedication is unwavering, aiming to exceed customer expectations with every job.
Things to Know Before Installing Tint to Your Windshields
State Laws and Regulations:
Different states have varying regulations regarding the darkness and reflectivity of window tints. Ensure you're compliant with local laws.
High-quality tints offer UV protection and can reject a significant amount of solar heat, enhancing comfort and battery performance.
Understand the differences between ceramic, carbon, and dyed tints, each offering unique benefits and aesthetics.
Choose tints with a strong warranty, as they often indicate a product's longevity and resistance to peeling or fading.
Seek professionals, like Flying Window Tinting, that utilize computer-aided cutting for a perfect fit and reduced risk of damage.
After installation, wait a few days before cleaning tinted windows and always use ammonia-free cleaning products to maintain the tint's integrity.
While it's tempting to go for cheaper options, investing in high-quality tinting can offer better protection and last longer, providing better value in the long run.
Aesthetics vs. Functionality:
Decide your priority – whether you want the tint primarily for looks or for functional benefits like UV protection and heat rejection.

At Flying Window Tinting, we've got every Tesla owner covered. Whether you drive the: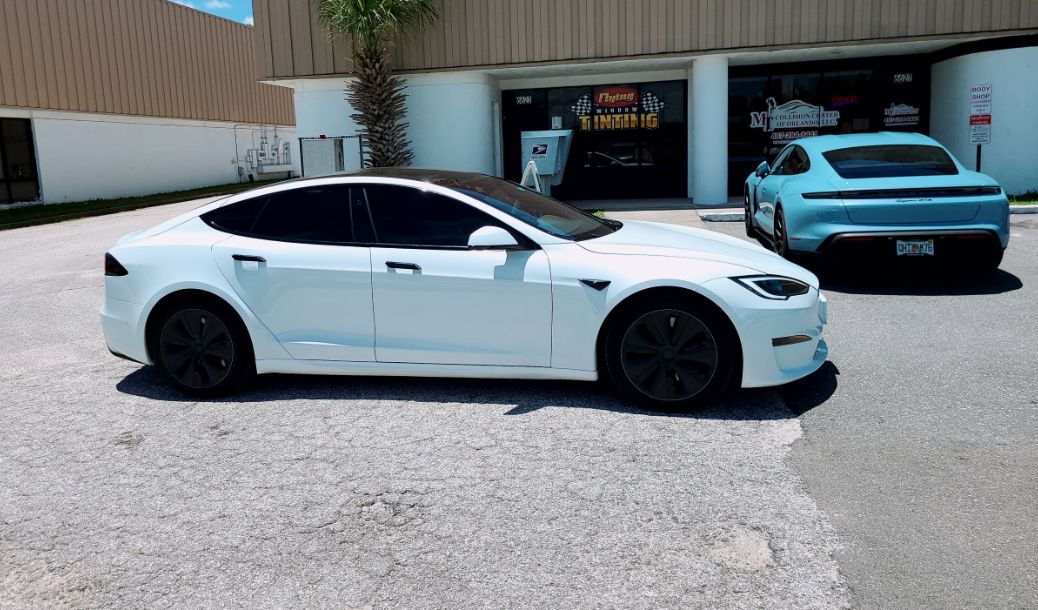 Tesla Window Tinting:

Get Stunning Looks & Ultimate UV Protection
Tesla Window Tinting offers the perfect blend of aesthetics and practicality, delivering both stunning looks and ultimate UV protection for your prized Tesla vehicle. Our expert technicians use cutting-edge technology to apply high-quality window films that not only enhance the sleek appearance of your Tesla but also safeguard you and your interior from harmful UV rays.
Our window tinting services not only reduce glare and maintain privacy but also enhance energy efficiency, keeping your Tesla's interior cooler during scorching summers. Elevate your driving experience with Tesla Window Tinting, where style meets protection, and your vehicle gets the treatment it deserves.
Our Tesla Window Tinting Packages:
Frequently Asked Questions
Is it OK to tint windows on a Tesla?
Yes, it is perfectly fine to tint the windows on your Tesla. In fact, many Tesla owners opt for window tinting to enhance privacy, reduce glare, and protect against harmful UV rays. However, it's essential to ensure that the window tinting complies with local regulations to avoid any legal issues.
Does tinting a Tesla void warranty?
Generally, window tinting itself does not void your Tesla's warranty. However, if the window tinting process damages the vehicle or is not installed correctly, it may not be covered under warranty. It's crucial to choose a reputable and experienced window tinting service provider to avoid any potential warranty-related issues.
Are Tesla windows UV protected?
Tesla vehicles come equipped with laminated glass that provides some level of UV protection. While they offer basic protection, additional window tinting can significantly enhance UV protection, reducing the risk of interior fading and providing additional comfort for passengers.
Is 35% tint legal in Florida?
In Florida, window tinting regulations may vary depending on the type of vehicle and the specific windows being tinted. As of my last knowledge update in September 2021, Florida law allowed a maximum of 28% visible light transmission (VLT) for the front side windows and a minimum of 15% VLT for the rear side windows and rear window. Please check with your local authorities or a professional window tinting service for the most up-to-date information on tinting regulations in Florida, as they may have changed since then. It's important to comply with local laws to avoid legal issues.